Old wine glass or new candle holder? This is this Christmas dilemma…
Today I want to share with you a new, quite clever creation. I admit it, the idea is not mine (ouch!), but I was inspired by Pinterest (see the original pin here
). All you have to do is get a wine glass and flip it to make a candle holder. How simple and smart is that?
When I first saw it I was so impressed, that I literally ran to look for an odd, old wine glass and started working, personalizing the idea with crackle effect, decoupage paper, felt and burlap… Do you want to try too? Just follow the step-by-step instructions below and you can make your own original center piece for your Christmas table…enjoy!
A wine glass

A flat cardboard or plastic circle (I used a plexiglass sphere's separator)

Glass Primer

Background acrylic paint (I used a gold color)

Foreground acrylic paint (I used ivory)

Crackle medium

A Christmas image (I got mine from Calambour paper RP73)

Decoupage glue (Mod Podge should be ok)

Clear sealer

Liquid bitumen (or any other medium that will give an antique look to the piece)

Decorations (flowers, berries, ribbons…)
First of all, you will have to brush the outside of the glass and the top of the circle with (in order): glass primer, gold acrylic paint (2 coats work better than 1, see image 2 below), crackle medium, ivory paint (1 coat only, the second coat would not crack!), letting, of course the products dry between coats.
Next, I applied the decoupage image, using the appropriate glue and I let it dry, before covering everything with a clear acrylic sealer. I then centered and glued (using a hot glue gun) the glass to the circle. With a sponge I applied a very thin layer of liquid bitumen to the surface and, when it dried, I added some ribbons and flowers as decorations (you can see how to make the felted poinsettias in the beautiful tutorial here
...and maybe,

you will end up also making the stocking, as I did).
And here is my final creation! I hope you enjoyed this little tutorial. For any questions, just leave a comment below.
Come back soon, and have a wonderful, creative day!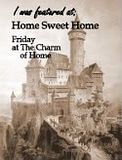 My favorite parties:
Under the Table and Dreaming
-
Between Naps on the Porch
- Dwellings -
Creatively living - I should be mopping the floor -
The Stories of A2Z
-
Coastal Charm
-
A Stroll thru Life
-
My Uncommon Slice of Suburbia
– Stone Gable
-
Cozy little house
-
Knick of time
- Savvy Southern Style
- From my front porch to yours
-
The charm of home -
Ivy and elephants - Green Willow pond -
The Brambleberry Cottage -
No Minimalist Here -
Common Ground
-
French Country Cottage - Rain on a tin Roof -
The dedicated house - It's so very Cheri - My Romantic Home
P.s. If you don't want to miss any crafty project, remember to follow the blog by clicking on the "join this site" button in the right column ;-)